Manufacturer: extragroup
Product: interiorcad

Free trial: http://www.extragroup.de/en/order-demo-version/
The Interior Design Plugin for Vectorworks
For companies with a broad range of services. From presentation to production. For companies whose strategic marketing and production requires comprehensive software for structuring and organisation.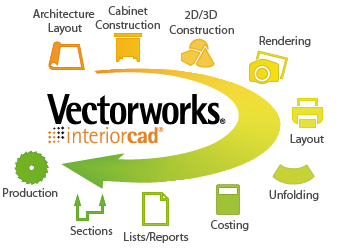 For people who need more than just CAD.
How many different applications do you use for presentation, setting out and shop drawings? Two? Three? Or even four? Do regular file exchanges cost you a lot of time but your CAD solution can't handle the entire scope of your work?
Vectorworks interiorcad is the true alternative to your software hodgepodge. Plus you can still interface with other programs through Vectorworks' built-in import/export filters. Issue CNC files to your point-to-point CNC Workcenter, send pdfs or Quicktime movies to your clients or generate DWG/DXF files to exchange documents with the Autocad world. interiorcad relies on Vectorworks as its CAD engine because it is the most flexible and easy to use 2D/3D CAD out there!
Manufacturer: extragroup
Product: interiorcad xs

Free trial: http://www.extragroup.de/en/order-demo-version/

The Better Vectorworks Cabinet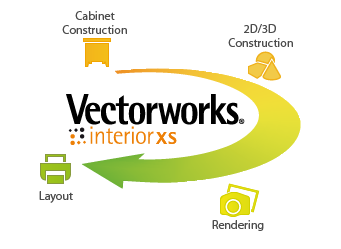 For architects and interior designers who require a more full featured cabinet PIO and worktop than what comes with Vectorworks. For kitchen designers who want more freedom and flexibility but don't need data for manufacturing or production.
Vectorworks in a great all-purpose CAD which comes with a large array of plugins for architecture and interior design. Vectorworks users who require a more powerful and versatile cabinet object with full Renderworks integration will find interior xs an interesting alternative to the standard Vectorworks cabinet.
interior xs integrates seamlessly with Vectorworks giving you all the great 2D drafting and 3D modelling features that come with it.






For full details, please visit http://www.extragroup.de/en